Image: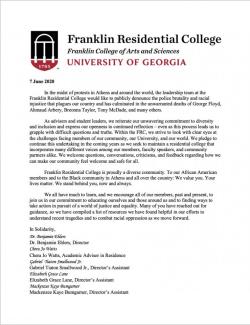 In the midst of protests in Athens and around the world, the leadership team at the Franklin Residential College would like to publicly denounce the police brutality and racial injustice that plagues our country and has culminated in the unwarranted deaths of George Floyd, Ahmaud Arbery, Breonna Taylor, Tony McDade, and many others.
As advisers and student leaders, we reiterate our unwavering commitment to diversity and inclusion and express our openness to continued reflection – even as this process leads us to grapple with difficult questions and truths. Within the FRC, we strive to look with clear eyes at the challenges facing members of our community, our University, and our world. We pledge to continue this undertaking in the coming years as we seek to maintain a residential college that incorporates many different voices among our members, faculty speakers, and community partners alike. We welcome questions, conversations, criticisms, and feedback regarding how we can make our community feel welcome and safe for all.
Franklin Residential College is proudly a diverse community. To our African American members and to the Black community in Athens and all over the country: We value you. Your lives matter. We stand behind you, now and always.
We all have much to learn, and we encourage all of our members, past and present, to join us in our commitment to educating ourselves and those around us and to finding ways to take action in pursuit of a world of justice and equality.  Many of you have reached out for guidance, so we have compiled a list of resources we have found helpful in our efforts to understand recent tragedies and to combat racial oppression as we move forward.
In Solidarity,
Dr. Benjamin Ehlers
Director
Chera Jo Watts
Academic Adviser in Residence
Gabriel Tiaton Smallwood Jr.
Director's Assistant
Elizabeth Grace Lane
Director's Assistant
Mackenzee Kaye Bumgarner
Director's Assistant